Autumn risotto with butternut squash, chestnuts and gorgonzola
There are many seasonal fruits and vegetables even in autumn. So, we have lots of seasonal ingredients to cook with — carrots, parsley, pumpkins, chestnuts, mushrooms, citrus fruits, nuts, quinces, rose hips. They are great for making a tasty, rich, and colorful dish that will warm you up during the cold and rainy autumn days.
The autumn flavored risotto offers typical autumn ingredients and tastes gorgeous. There are chestnuts together with roasted squash, walnuts, sage and the pronounced flavor of gorgonzola on one plate. I hope that you will like this meal as we and our friends do.
Ingredients (serve 4 to 6)
Preparation: 30 minutes + 30 minutes cooking
1 tbsp olive oil
1 tbsp butter
1 onion, diced
fresh sage, cut into small pieces
200 g arborio rice (or another risotto rice)
100 ml white wine — optional
1 l vegetable broth
salt
100 g roasted chestnuts, peeled
1 small butternut squash or red kuri squash (hokkaido), baked and cut into cubes — Wash the squash, cut it into four parts, scoop out the seeds, season the squash with salt, rub it with oil and bake at 220 °C for 25 minutes (or until you are able to easily poke a fork through the flesh). Season with garlic or/and chili.
100 g gorgonzola, cut into cubes
handful of walnuts
cress — optional
pumpkin oil
Instructions
Heat the oil and butter in a wok or heavy-bottomed pot. Add onion, sage and cook for a while. Once the onion is tender, add the rice, stir well, and add warm white wine (optional). When the wine evaporates, add a hot broth (one ladle at a time).
After each ladle of broth, stir the risotto occasionally until the broth soaks and evaporates, and then add another ladle. The broth should be hot, which prevents the rice from a heat shock. Together with last ladle of broth add chestnuts, roasted squash, gorgonzola and walnuts. Season with salt and stir well.
Once the rice is cooked, remove it from heat. Let the risotto rest for few minutes and serve hot with the pumpkin oil and fresh cress.
Bon appetite.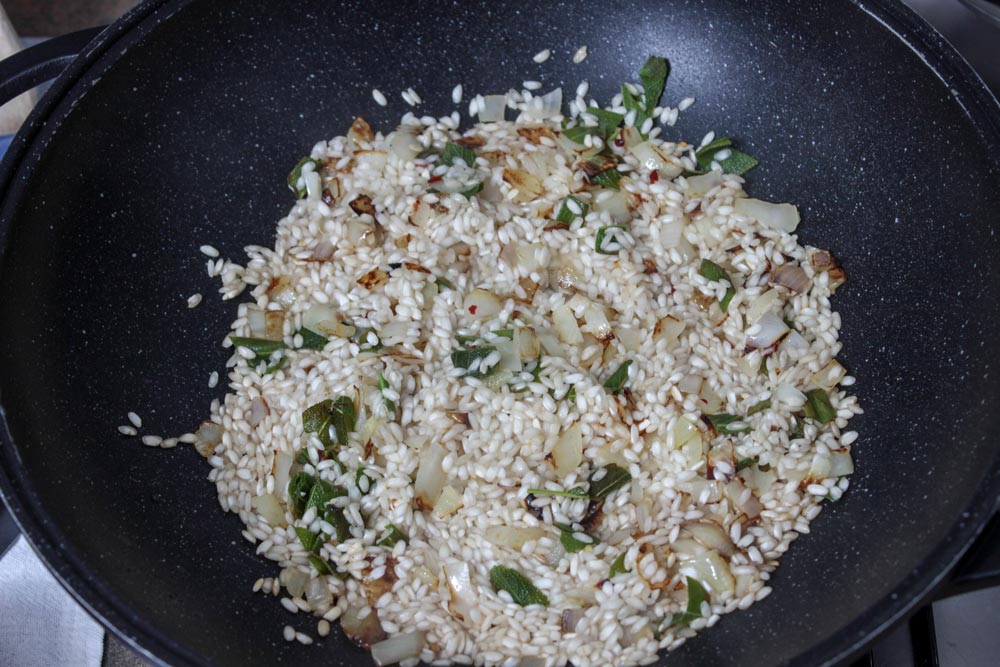 ---
---