Easy banana cake with cardamom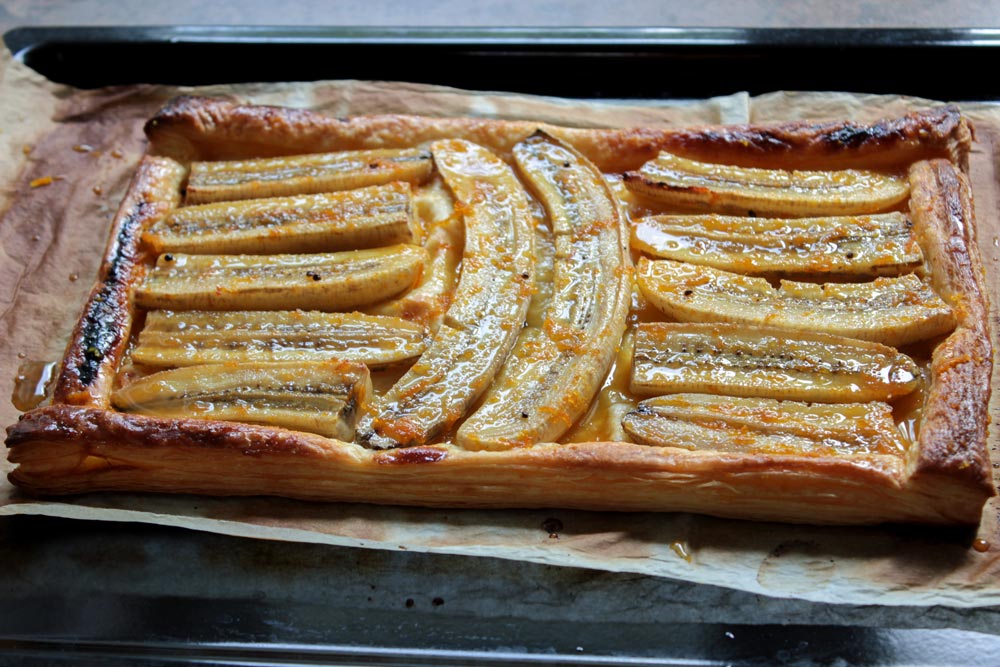 I was waiting for this recipe for a long time. We ate this banana cake for the first time in Egypt about 8 years ago. Since then I hoped that once I figured out how to make such delicious cake with full banana flavor. Besides the banana version, we loved the cake with fresh dates as well.
And then I found the recipe in The Essential Dessert Cookbook and realized that the preparation is easy and quick. Since then, any unexpected visits do not surprise us (if I have all the ingredients at home). Puff pastry, large pieces of baked bananas, and cardamom with fresh orange juice taste incredibly delicious. Try it yourself!
Ingredients (serves 9)
Preparation: 10 minutes + 25 minutes baking
zest from one orange
150 ml fresh orange/tangerine juice
1/4 tsp cardamom seeds
3 tbsp cane sugar
1 tbsp rum (orange liqueur or vanilla extract)
puff pastry
2 tbsp butter, melted — optional
3–4 bananas, cut in half lengthwise
Instructions
Pre-heat the oven to 220 °C.
Combine the citrus juice, orange peel, sugar and cardamom in small pot and bring to a boil. Simmer for few minutes and then add rum or liqueur. Set aside and let it cool down.
Roll the puff pastry to a rectangle, fold its edges inward or cut the 1 cm of the pastry from each side and stick it to the edges with water. If you want to add more butter flavor to your puff pastry, spread it with melted butter.
Put the puff pastry on the baking form with baking paper and place bananas on the pastry. Spread the bananas and puff pastry with citrus syrup and bake the cake for 20–30 minutes. When the pastry grow and begin to catch the color, remove it from the oven and spread it with the remaining citrus syrup.
Serve hot or cold, with or without whipped cream, or with slightly sweetened sour cream.
Enjoy the cake :).
---
---