Black and blueberry summer cake
Mouthwatering summer cake with seasonal fruit, creamy pudding layer and whole-wheat cake dough is ideal for the beginning of the summer holidays. I found the recipe in the edition Bake with love (7th ed.) from Dr. Oetker, but I had to make some adjustments there.
The original recipe recommended twice as much ingredients for the dough, which eventually affected the ultimate enjoyment of this summer cake. So I decided to reduce the dough to half, replace the all-purpose flour with the wholegrain, and use less sugar.
If you like sweet cakes, use more sugar for creamy pudding filling or sprinkle the cake with confectioners sugar before serving. You can use any fruit you have for the cake. It works perfectly with berries, but it will taste great even if you use nectarine or peach.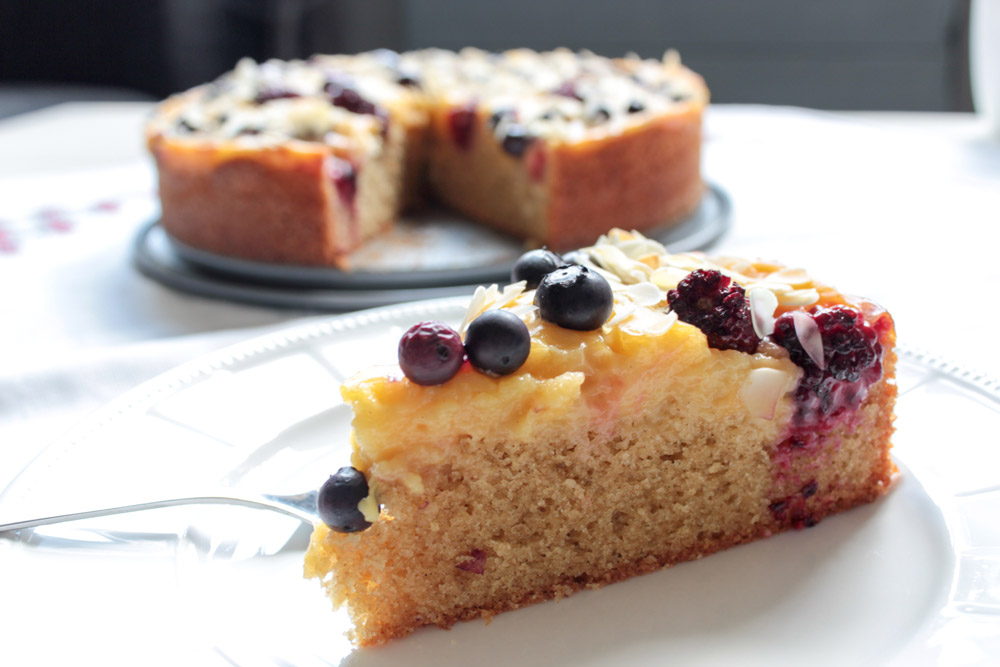 Ingredients (serves 12)
Prep time: 30 minutes + 30 minutes (baking)
Dough
80 g unsalted butter, room temperature + to grease the baking form
50 g fine cane sugar
1 tbsp vanilla sugar
2 eggs
100 g whole-wheat flour + for spreading the baking form
1/2 tsp baking powder
Filling
250 ml cream, room temperature
1 vanilla pudding (in powder)
1 tsp vanilla extract
250 ml orange juice
60 g sugar (if you like sweet cake, add more sugar)
250 g berries — blueberries, raspberries, blackberries
handful of almond chips — optional
Instructions
Dough
Grease the springform (diameter of 26 cm) with butter and sprinkle with flour.
Mix well the butter with cane and vanilla sugar until pale and fluffy. Add one egg at a time and mix well with the butter.
In another bowl mix the flour with the baking powder and add it gradually into the butter-egg mixture. Pour the mixture into the prepared springform and gently smooth the top.
Heat the oven to 180° C.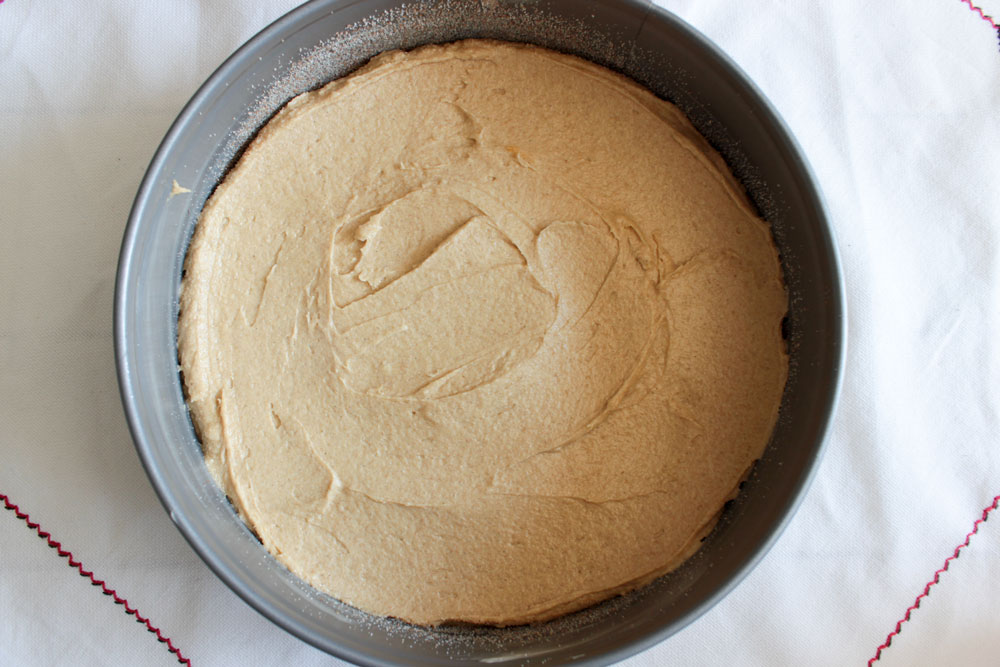 Filling
Combine cream with powdered pudding until it dissolves.
Bring the orange juice to the boil along with the sugar. Remove it from heat and add the pudding mixture. Mix well, return the mixture to the fire, and stir occassionaly until a thick pudding forms. Turn off the fire, add the vanilla extract, and stir well. Let it cool for a while, stir the pudding occasionally so that it does not form a peel.
Wash the fruit and dry it gently.
Spread the pudding over the dough, put the fruit on it, and sprinkle with almonds.
Put the cake in the oven and bake it for 30 minutes (or until the dough is baked). Let it cool to room temperature in the springform.
Serve sprinkled with powdered sugar, if needed.
---
---