Quark dumplings filled with strawberries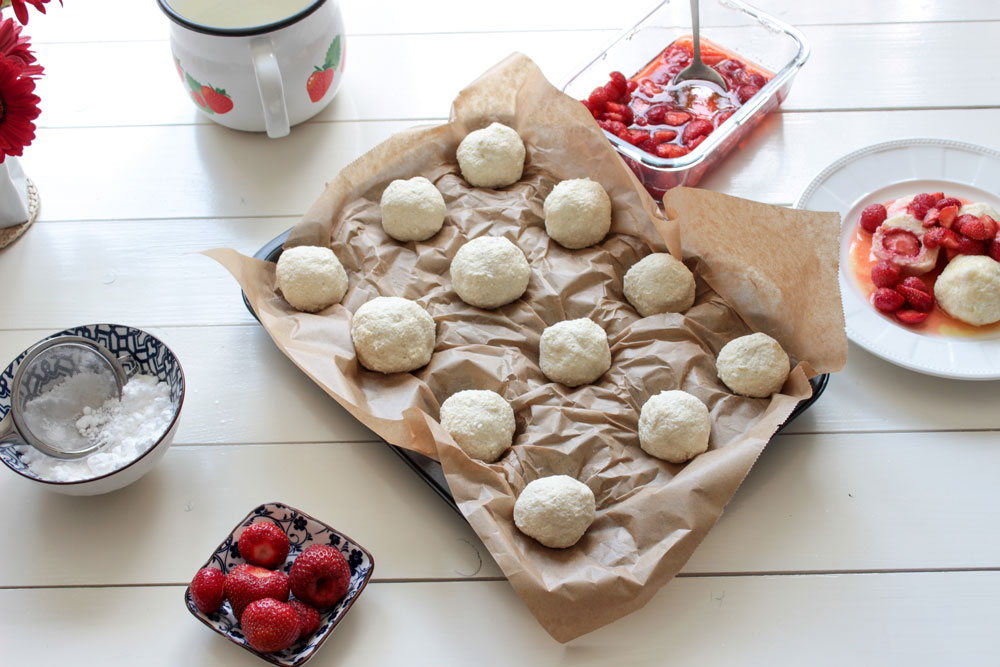 Strawberry season is here! How do you process them? We love strawberry milkshakes, strawberry jam, syrup, sorbet, sponge cake and quark dumplings. Light and fluffy, full of quark and fresh strawberries. Preparation is super easy and fast. Let's bring some strawberries home and make these delicious dumplings.
Ingredients (app. 20 dumplings)
Prep time: 30 minutes
Dough
500 g soft quark
2 eggs
pinch of salt
1–2 tbsp sugar — optional
seeds from 1 vanilla bean — optional
7 tbsp semolina or very strong flour
Filling and sauce
strawberries
powdered sugar
butter
Instructions
Prepare ingredients, cleanse strawberries, and if you want to eat quark dumplings right away, boil the water in a bigger pot.
In a medium bowl, mix quark, eggs, salt, sugar and vanilla seeds. Add semolina and mix well. Let aside for about 10 minutes.
Take a piece of dough, press the dough among hands and put strawberry in the middle. Carefully wrap the strawberry in the quark dough and use both hands to form a dumpling. Make all dumplings using the remaining dough. The final number of dumplings depends on the size of the strawberries used.
Once you prepared the dumplings, put them in the boiling and slightly salted water for maximum 3 minutes. The less boiling time, the more fresh strawberries in dumplings. Serve hot topped with melted butter and sprinkled with powdered sugar or ground poppy seeds. If you want more strawberries, prepare strawberry side dish — cut fresh strawberries into quarters, sprinkle it with sugar, and allow to rest for at least 30 minutes (until the juice is released).
Bon appetite!
---
---