Whole-wheat waffles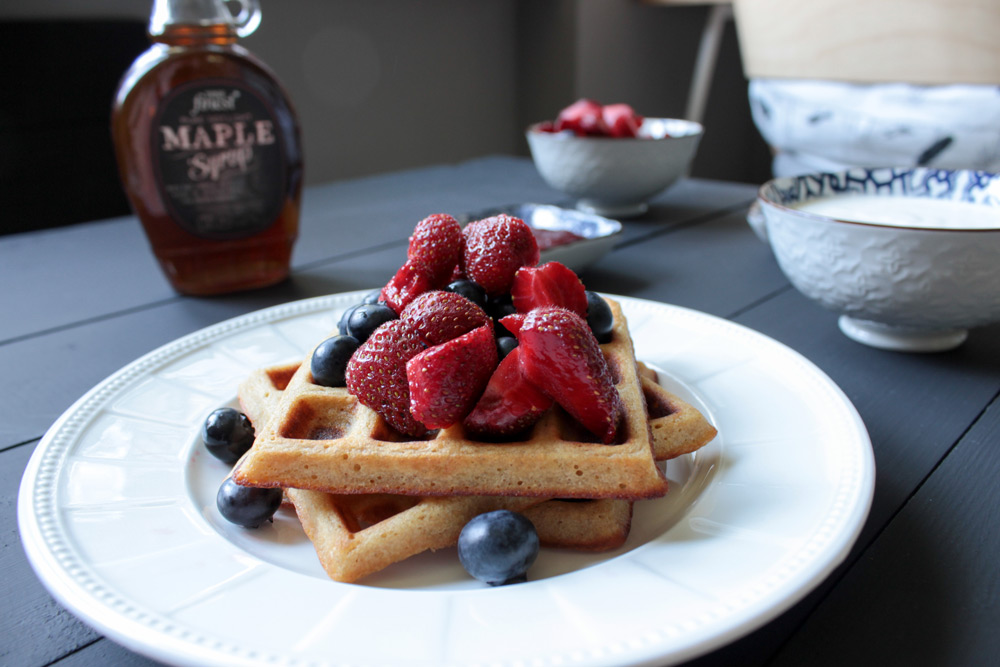 After the fall of communism in 1989 in Czechoslovakia, our country was open to whole new world of possibilities, goods and culinary specialties. I remember the first stall with waffles in our city (or gofry as we used to call waffles), which was nearby our house. The smell of freshly cooked waffles spreaded out to the surroundings, and captivated people who were willing to wait in a long queue to buy this new tasty treat (otherwise, everybody was accustomed for waiting thanks to communism).
Waffles were served with fresh fruit and a big portion of fresh whipped cream. They were so delicious that it was very hard to resist them. Unfortunately, the wave of enthusiasm from waffles fell off quickly and the waffle stall was closed. Today, it could be a great success story. So, if you have a business spirit, take the opportunity and open waffle stall in Považská Bystrica again :).
If you want to remind the taste of your first waffle or you'd like to prepare a delicious weekend breakfast, let's get inspired by my whole-wheat waffle recipe.
Ingredients (6 waffles)
Preparation: 5 minutes + 15 minutes resting + 20 minutes baking
1 egg
160 ml milk
1 tsp vanilla extract
50 g melted butter, at room temperature
90 g wholewheat flour
pinch of salt
2 tbsp sugar/maple syrup
1/2 tsp baking powder
Instructions
Mix together egg and vanilla extract with milk in medium bowl. Add melted butter.
In another bowl, mix dry ingredients (flour, salt, sugar and baking powder). If you use maple syrup, add it to egg-milk mixture.
Add dry ingredients to the egg-milk mixture and mix well to avoid any lumps.
Let it rest for 15 minutes. Cook in the waffle iron (about 4 minutes on one side and 2 minutes on the other).
Serve with fruit, whipped cream, maple syrup, peanut butter, or whatever you like.
---
---