Madrid: incredible markets, bocadillo de calamares and great galleries
Let's start with ode to Madrid. Madrid is wonderful! We spent there only two weeks, but we fell in love with the city because of its incredible galleries, lovely city parks, markets situated at unusual spots, diversity and pleasant January weather.
Madrid offers excellent cultural activities and events, great food, endless shopping, football madness, bocadillo de calamares, sangria, design shops and many more.
Resourcefulness and the ability to make over unused buildings and transform them into cultural centers, marketplaces or design market, can be found in every part of the city. Open your eyes and discover these special spots, or make some research in advance. Read more and find out, what to eat at markets, where is one of the best ice-cream in the city, whether is it worth to try churros and where you should eat the incredibly tasty Madrid's specialty – bocadillo de calamares.
Everyone can find his/her favorite places in Madrid; and now I share my beloved spots with you. Here we go.
Mercado de San Miguel
Mercado de San Miguel was the first marketplace we have visited. When you walk in the city centre, you can't miss it. You can reach it from the Plaza Mayor on the way to the Royal Palace.
Be aware, that the San Miguel Mercado can be pretty packed during the lunch hours as many locals eat there. It could be problem to find a free table during these hours. Come later or grab a take-away to avoid this. The market offers quite nice variety of tapas, fruits and vegetables, so there is no problem to find something delicious for everyone. You can also buy some wine, beer or sangria, here.
Not everything is worth to try. We definitely do not recommend a paella, tapas served on a dried bread and be careful with desserts. Our mango tart was still frozen in the middle. The best paella is in Valencia, so try some other meals that Market of San Miguel offers.
There is really nice stall "El señor Martín", where you can choose from a wide range of fresh fish and seafood. Their menu includes fried sardines, squid, shrimps, mussels, octopuses and many more. The price starts at 9 €, but portions are generous.
Market of San Miguel offers colorful and flavorful variety of tapas. There are tapas served on dried bread as well as tapas served on fresh bread. Or tapas without bread. 🙂 Tapas are great, because thanks to the small portion, you can eat several different kinds. The biggest problem then is to choose which one to eat. You also need enough space in your stomach.
I also reccomend you to try the angulas – fish cut into small pieces that resembles baby eels. Of course, you can find real baby eels in Madrid, but it will be much more expensive. The taste of angulas is nice and fish-like (surprisingly :)). Angulas is served with fresh bread.
Mercado de San Ildefonso and Malasa
ña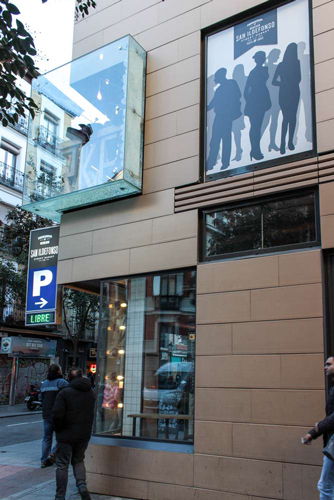 Mercado de San Ildefonso is more compact and smaller than Market of San Miguel. Its stalls are spread over three floors. If you are the lucky one, you can enjoy thematic events – Andalusian week, cod days, taco week, and many others.
Malasaña is a pleasant city district, where you can find design shops, nice bookstores and enjoy the city itself during your walk. There is one of the best ice-cream store in the city, called Mistura. This tiny eco-friendly store is located nearby Market of San Ildefonso. They use only organic ingredients and mix the ice-cream with your selected flavor directly in front of you. If you can't decide which is the best combination of flavors, ask for advice. There is a nice staff who will guide you and recommend you the best combinations. Keep your eyes open, there are about four Mistura stores in Madrid. 🙂
Are you craving for something special? Look for one of Madrid's typical food – bocadillo de calamares (a calamari sandwich). Unfortunately, my favorite El porrón de canalla no longer exists. But you have to try it in La Campana.
Theater where you can eat – Mercado Platea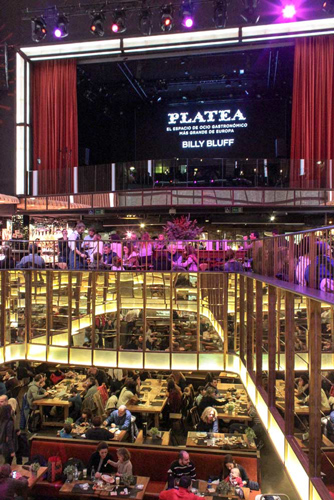 It was little bit difficult to find this market. Until the very last moment, we didn't know if we were at the right place. And then, we suddenly discovered a wonderful and unusual place for restaurants, bistros and bars.
The former movie theater turned into gourmet market – that's Mercado Platea. The impressive atmosphere and wide range of delicious food left us speechless. As we were hungry, we had to order some food and it was so tasty. We ordered beautiful bocadillo de calamares and super-tasty pimientos de Padrón (small green peppers that are fried in oil and seasoned with salt) – an amazing delicacy. Be careful, one of a thousand peppers can be hot :). There is a Michelin stared restaurant in Platea.
Except for lovely meal and a pleasant atmosphere, you can enjoy the concerts or other cultural events, which take place here sometimes.
I definitely recommend you to visit this extraordinary gastronomic place.
Mercado San Anton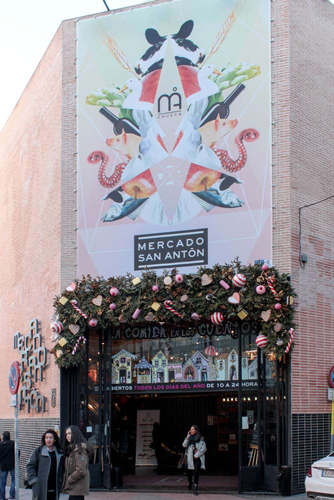 Nearby the Market of San Ildefonso is another gastronomic oasis – Mercado San Antón in Chueca district.
This market with three floors offers various products and culinary experience. On the first floor you can find traditional market with local products such as meat, fruits, vegetables or fish. The second floor offers a wide range of stalls with food from different world cuisines – tapas, burgers, Japanese, Italian, Greek and Canarian cuisine.
And finally, there is a terrace on the third floor, which is ideal for relaxing, enjoying a drink and watching the city life.
Other spots, which are worth to see in Madrid
Galleries and museums
Once you are in Madrid, don't miss its exceptional museums and art galleries – Prado, Reina Sofia, Royal Palace, Thyssen-Bornemisza, Caixa Forum, Sorolla, just to name a few. If you are not yet a fine art-lover, you have the perfect opportunity to change it in Madrid. Many museums offer free entry at certain times. Check the opening hours and free entry terms before visiting. Don't panic if you see the long queue in front of the museums, it works perfectly.
Mercado de Motores – Museo de Ferrocarril
Imagine that the design market, flea market and street food festival take place at the same time at the premises of the old-train museum. That is Mercado de Motores. Once a month (on the second weekend of the month) there is a great atmosphere, the designers and vendors sell their products among the old locomotives. Outside, behind the museum there are food and beverage stalls, and a flea market. If you are in Madrid and it's the second weekend of the month, you definitely have to go there.
Matadero Madrid
Matadero is another proof of Spanish resourcefulness and their ability to effectively use and transform old place into new hip spot. The former slaughterhouse is now a center of contemporary art with many cultural activities and events – exhibitions, concerts, workshops, theatre performances. This creative space is for everyone who loves art, design, culture, interesting places and meetings with friends.
La Central de Callao
A beautiful bookstore in the city center, where we've never managed to leave without buying something. Except for the nice books, there is a shop with unusual souvenirs, bistro, café and a cocktail bar. Sometimes there are also interesting lectures, concerts or discussions. Check the program before visiting La Central's bookstore, if interested. Bear in mind, that there are two La Central bookstores in Madrid. The other one is located in the Reina Sofia Museum.
Churros
We have been advised that we have to try this Spanish, Portuguese and Latin American delicacy. Churro is a fried dough, usually served with coffee, chocolate or dulce de leche. As we spent two weeks in Madrid, we decided to go to two most famous "churrerías" in Madrid – Los Artesanos 1902 and San Gines. And both disappointed us.
In San Gines there were too many people, unpleasant staff, churros were very greasy and hot chocolate tasted like pudding. There were less people in Los Artesanos, but the staff was grumpy too and the chocolate tasted worse. At least churros were less greasy. We didn't fall in love with this titbit. But it is a tradition, so we gave the churros a chance. If you find a great churrería, please, let me know.
Football
Madrid is a cosmopolitan and well-organized city with lots of cultural attractions. But if you want to experience a real football madness, stunning atmosphere and smashing energy, you have to go to watch Real Madrid in action. We were kindly surprised by the smooth and quick security controls at the stadium. The football match was one of the special moments we had in Madrid.
Hala Madrid!
---
---