Juicy roast beef with mustard seeds and cranberries
We ate our first roast beef in USA. I have to tell you, it was well deserved one. We had been waiting for that joker almost the whole day. It was delicious, but I really missed the precious time. And then I realized that the roast beef could be prepared faster. Much faster.Don't be discouraged by the nearly 3-hours preparation time, which I mentioned in the recipe. You don't have to do anything for most of the time. If the meat has the room temperature, you cut the cooking time by an hour :). Bake it for about 8 minutes and then just let it rest in the oven.
If you like pure taste of fine and juicy meat, you'll fall in love with this roast beef. Serve it with various salads, blanched vegetables and use this lovely beef to make a spring rolls or bruschettas. My favorite side dish is pineapple salad and cranberries with honey (recipe see below).
Let's do it! Do not worry, it'll be great.
Roastbeef
Ingredients (Serves 4)
Preparation: 1 hour resting meat + 20 minutes preparation + 1.5 hour baking
600 g beef, preferably eye round roast cut
3 tbsp olive oil
1/2 tsp sea salt
1 tsp mustard seeds
Instructions
Remove the meat from the fridge and let it rest for at least one hour in advance to reach the room temperature. Wash it and dry it thoroughly.
Using pestle and mortar mix mustard seeds and sea salt. Once part of the mustard seeds is crushed, add 2 table spoons of olive oil and stir well. Set aside.
Pre-heat the oven to 120 °C.
Spread the meat with rest of olive oil, put it on a hot pan and sear for max. 2 minutes on each side until a caramelized crust forms.
Place the grilling grid on a baking pan and transfer the meat on the grid.
Spread the meat with a mixture of olive oil, mustard seeds and salt and put it in the oven for 1–1.5 hours. Occasionally spread the meat with the mixture during the baking.
Remove the meat from the oven and wrap it in aluminum foil for 10 minutes.
After 10 minutes, remove the aluminum foil and cut the meat into thin slices. Serve hot or cold.
Bon appetite.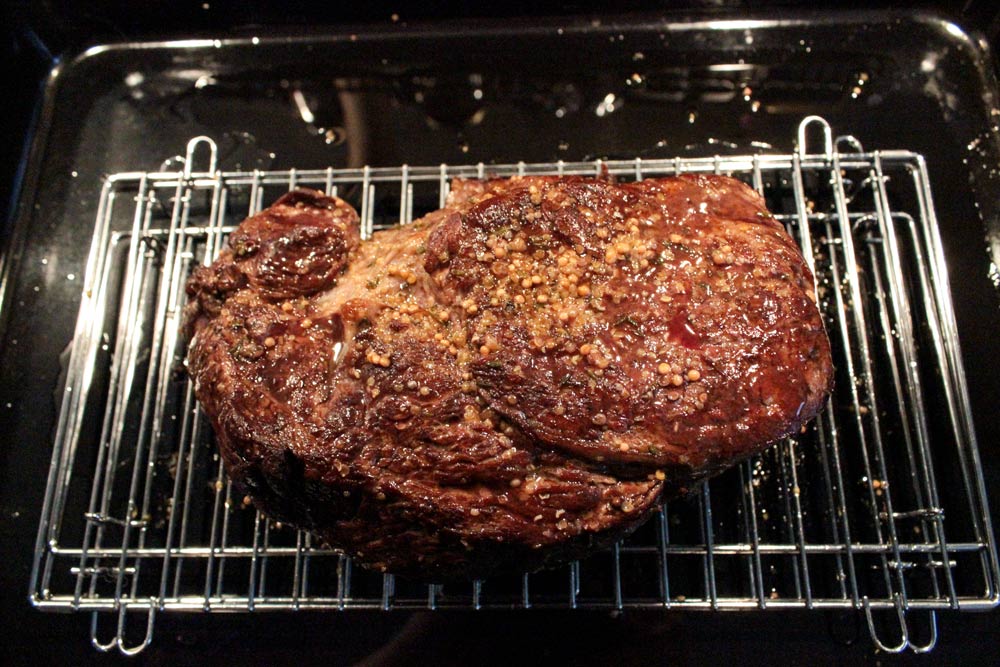 Cranberry sauce
Ingredients (Serves 4)
Preparation: 10 minutes
250 g fresh cranberries
2 tbsp honey
Instructions
Wash and dry well the cranberries. Put them in the pot or pan, add honey and bring to a boil on a medium heat. Be careful, they are tough and will start to burst. Protect yourself with pot cover. I mean place the cover on the pot, don't use it as a protect shield. 🙂
It takes few minutes until they are soft. Remove it from heat and serve.
That's it.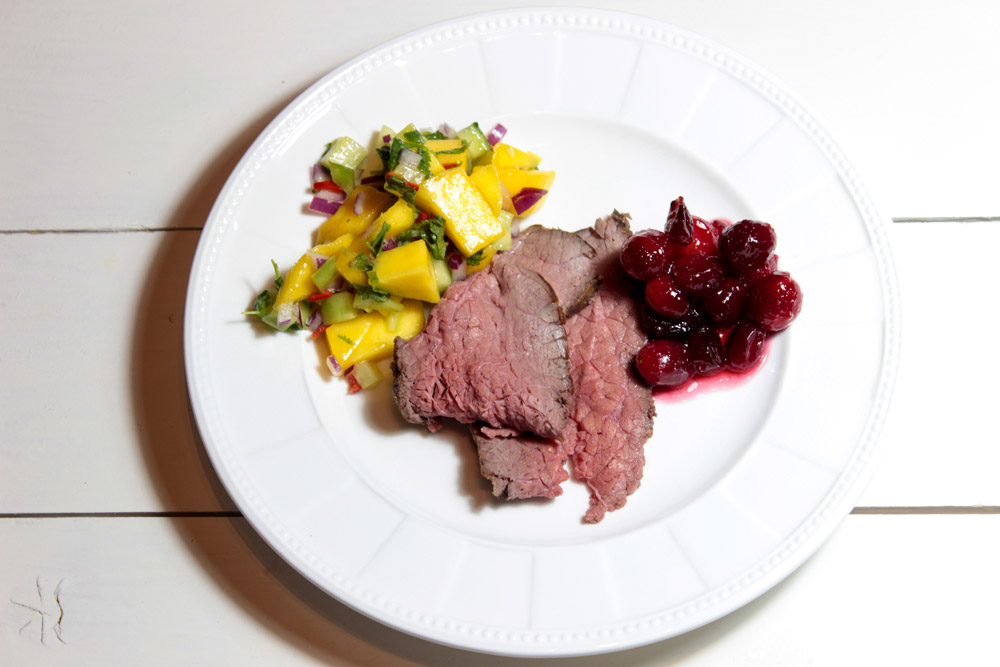 ---
---