Fresh Spring Rolls
Light, fresh, and delicious. The name — Spring rolls — doesn't mean that you can eat them in the spring only. Adjust the ingredients according to an actual season. You can make vegetarian, meat or even fruit version of them. Try to use shrimps, baked butternut squash, various kinds of vegetable, meat, fruit, herbs, seeds. Enjoy the creative part of cooking and combine your prefered flavors. It will be an amazing adventure with tasty result.
Oh, and sauces are the best part of eating spring rolls. My friends and my family are divided into "Nuoc Cham lovers" and "Peanut butter sauce lovers". The ratio between these two groups is 50:50. Which one is your favourite sauce? Share it with me! 🙂
Ingredients (app. 16 rolls)
Preparation time: 1 hour
rice paper (priemer 22 cm)
rice noodles Vermicelli (app. 80 g)
1/2 cup dry roasted peanuts, roughly chopped
1/2 mango pulp/nectarine/honeydew, thinly sliced
1/2 cup mint leaves
1 carrot, thinly sliced
200 g chicken breast — optional
1/2 cucumber seeded, if necessary, thinly sliced — optional
Nuoc Cham Sauce
1 garlic clove, chopped into small pieces
1 bird's eye chili, chopped into small pieces
150 ml coconut water
2 tbsp sugar (you can use palm, cugarcane or white granulated sugar)
2 tbsp fish sauce
1 tbsp lime juice
1 small carrot, thinly sliced – optional
4 tbsp creamy peanut butter
4 tbsp rice vinegar
2 tbsp soy sauce
4 tsp sugar
2–4 tbsp water
dried chili flakes, to taste
Instructions — sauces
Nuoc Cham
Mix the chopped garlic and Bird's eye chili together and mince it. Dissolve sugar in coconut water (you can use normal water as well), add fish sauce and lime juice. Add chili-garlic mixture. You can add thinly sliced carrot or minced piece of ginger.
Tip: If you don't like the taste of fish sauce or it is too aromatic for you, boil it with coconut water for few minutes. Part of its strong smell will evaporate and the taste will be more bearable.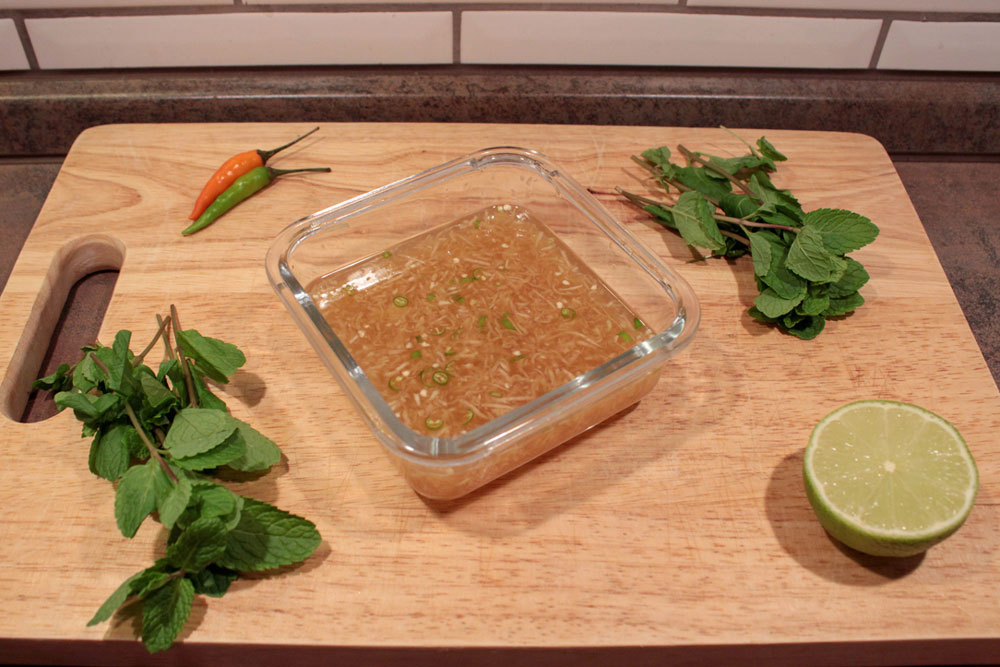 Peanut sauce
Mix together peanut butter, rice vinegar, and soy sauce. Add two to four tablespoons of water, if needed. The sauce shouldn't be very thick, or thin. Add sugar, and stir until dissolve. Add dry chili flakes to taste.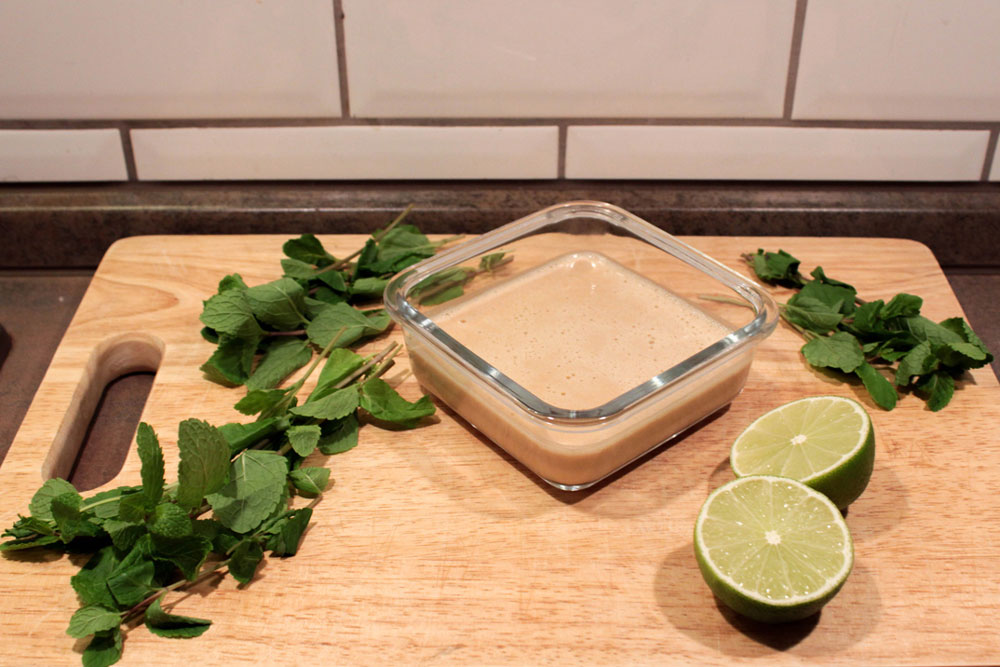 Instructions — Fresh Spring Rolls
Boil the meat. If you are going to make rolls with meat, begin with it. Cut the breast into halves (200 g is app. one chicken breast) and boil it for about 10–15 minutes in a water with pinch of salt. Remove the meat from the water (you can use the broth for making soups) and let it cool. Then cut it into small pieces.
Prepare and cut the vegetable and other ingredients for spring rolls. Prepare vermicelli noodles according to instructions. Make mise-en-place and get ready for rolling up.
Prepare a bowl of warm-to-hot water. Select the size of the bowl according to the size of the rice paper.
Everything is ready, let's start.
Soak rice paper in the prepared water for a few seconds (maximum 3 to 4). After a few seconds, when you feel that the paper is flexible, transfer it to the work surface or silicone pad. Do not leave the paper in the water for too long, it will fall apart. Don't worry if it won't work for the first time. Just try few more times and you'll know the trick. 🙂 Work fast.
Fill the rolls. Start with the vermicelli noodles. Place them in the center of the paper a few centimeters from the bottom edge. Add other ingredients to the center of the paper upward. Leave a few centimeters of free space from the top edge. Don't forget to add peanuts and mint. They always make a miracle in the roll!
Roll it up. Fold the paper from the left side toward the center. Do the same thing on the right side. Roll up the roll from the bottom to the top.
If you prepare spring rolls in advance, cover them with a wet towel. Otherwise they will dry out soon.
You can also fry the rolls in frying pan. If so, use two layers of rice paper.
Cut the rolls in half before serving.
Choose your favorite sauce and enjoy spring rolls!
---
---