Rich shrimp soup with coconut milk
This soup was part of our Christmas Eve dinner, last year and a year before. Hope that you will like it as much as we do. Shrimps, lemon grass and coconut milk, they all give the extra flavour to this soup. And fresh ginger with chili will warm you up. The soup will be much more delicious with home-made coconut milk in it.
The preparation is simple and super fast. Prepare all the ingredients beforehand and the soup will be ready in a while. You can play with ingredients and substitute them. Use spring onion instead of garlic. If you don't have kaffir lime leaves or curry paste, don't add them to the soup. Or use fresh parsley instead of pak choi. Soup will be still delicious. The essential ingredients are lemon grass, shrimps, coconut milk and chili.
A little alert. Do not serve big portions. This soup is very rich.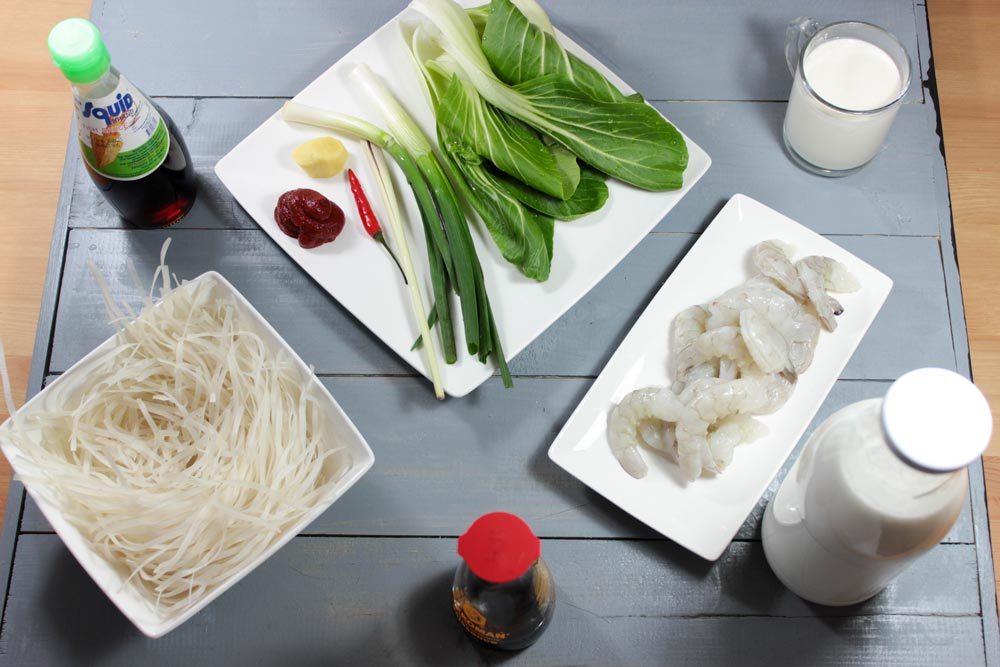 Ingredients (serves 4 to 6)
Preparation: 15 minutes + 20 minutes cooking
250 g rice noodles
sesame oil
2 garlic cloves/1 fresh spring onion, cut into small pieces
1 fresh chili, cut into small pieces
2 cm ginger, finely grated
1 lemon grass, cut lenghtwise and crushed by knife handle
2 tbsp tomato purée
1 tbsp curry paste – optional
2 – 3 kaffir lime leaves – optional
15 – 18 pcs tiger shrimps, peeled, deveined, heads and tails removed
3 tbsp fish sauce
1 tbsp soy sauce
250 ml cream
1 pak choi, cut into medium pieces – green leaves and white stems separated or fresh parsley
dried chili, dry-roasted sesame, spring onion, lime – according to your taste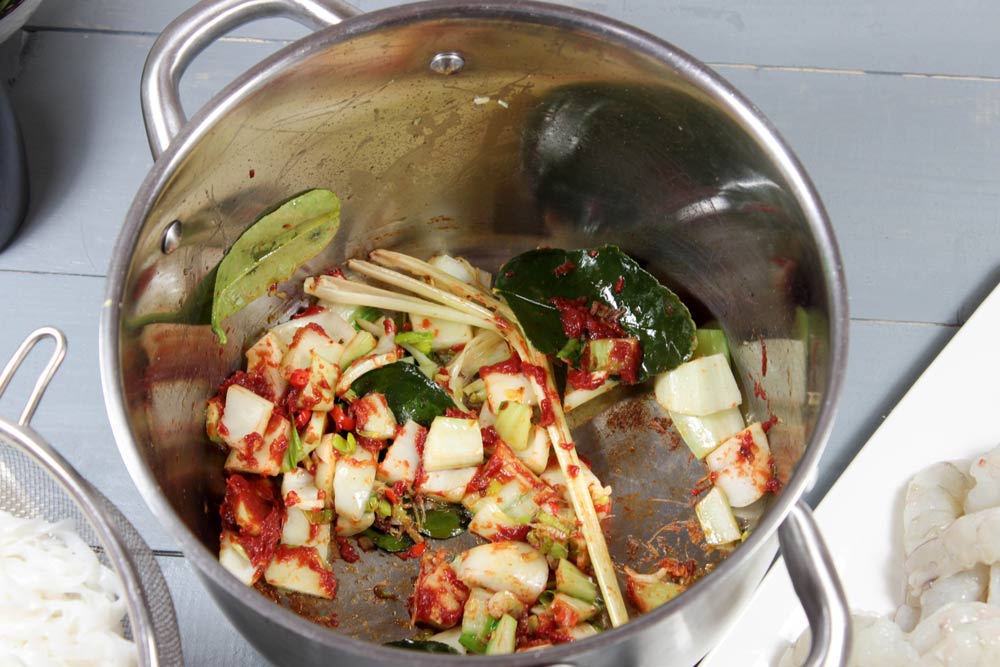 Instructions
Prepare the rice noodles according the instructions on the package. I soak them in lukewarm water for 3 minutes and then cook for 2 minutes in salt water. Once the noodles are cooked, rinse them with cold water to stop the cooking process. Set aside.
Add 2 table spoons of sesame oil to a cooking pot and heat over a medium heat. Add garlic (or white part of spring onion, use green parts for serving), chili, ginger and lemon grass and let it roast for 2 minutes.
Then add the purée, curry paste and kaffir lime leaves. Stir well and roast it for 1–2 minutes.
Add shrimps and shortly roast them on both sides. Add fish and soy sauce and stir well. Let it boil for a while (about 2 minutes) and add coconut milk, cream and white stem of pak choi. Bring to a boil, boil for 2 more minutes and remove the pot from the fire.
Let the soup rest for a few minutes and serve.
Serve with rice noodles sprinkled with green leaves of pak choi (or parsley), spring onion or chili. Add few drops of lime juice and enjoy the flavor.
Bon appetite!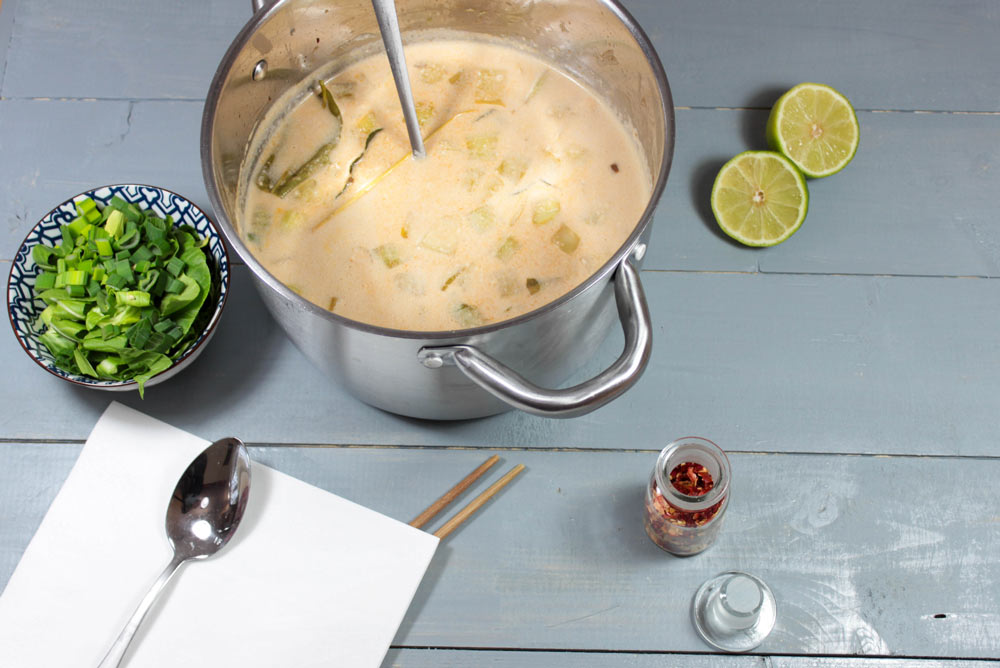 ---
---