Curry chicken with coconut milk
This is one of our most favorite dishes. You can adjust the taste according to your own preferences, but I definitely recommend to follow this precise recipe. Coconut milk with curry chicken in a delicious creamy sauce served with basmati rice sprinkled with fresh spring onion and chili. It's gorgeous!
This recipe has been prepared by Gabo Kocak, a cook chef, in his own 15-minutes chef cooking show. If you will prepare all the ingredients in advance, it will take even less than 15 minutes to eat this incredible dish. First, make some home-made coconut milk and then go for this super tasty meal.
If you have any coconut milk leftovers, use it to prepare a delicious coconut rice with mango.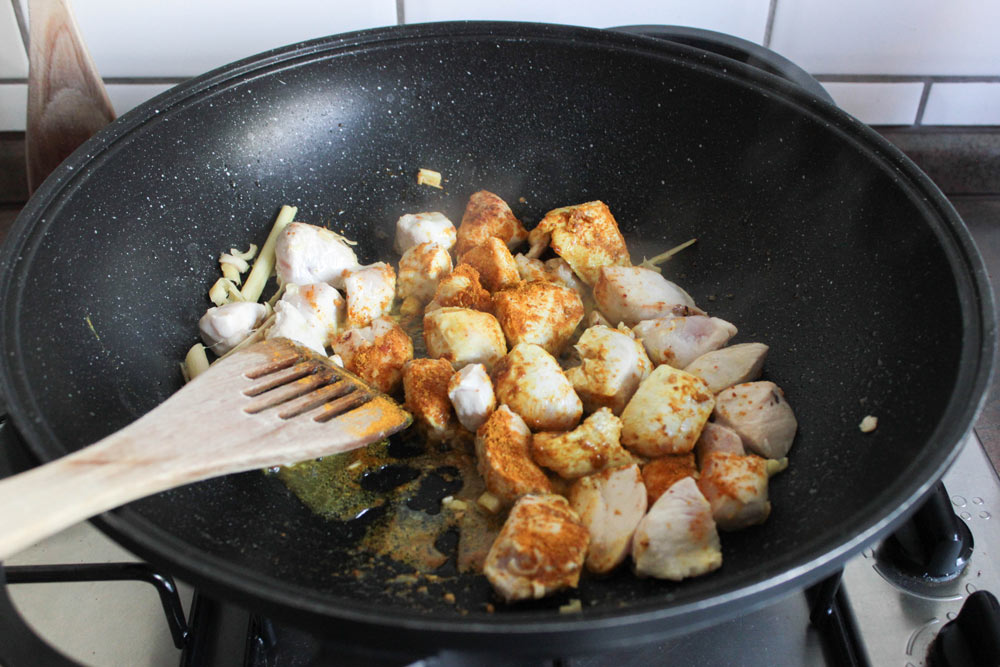 Ingredients (serves 2)
Preparation: 15 minutes + 15 minutes cooking
1 cup of basmati rice
1.5 cup of water
salt
1/2 of fresh spring onion or parsley, cut into small pieces
1–2 tbsp of sesame oil
1 fresh or dried chili, cut into small pieces
1 garlic clove, minced
1 tsp of grated ginger — optional
1 stalk of lemon grass, halved and crushed by a knife handle
250 g of chicken breasts (or any other boneless and skinless chicken parts), cut into 3 cm cubes
1 tsp of curry powder
50–75 ml of soy sauce, depending on your taste
200 ml of cream
200 ml of coconut milk
1/2 of fresh spring onion, cut into small pieces
dry-roasted sesame seeds — optional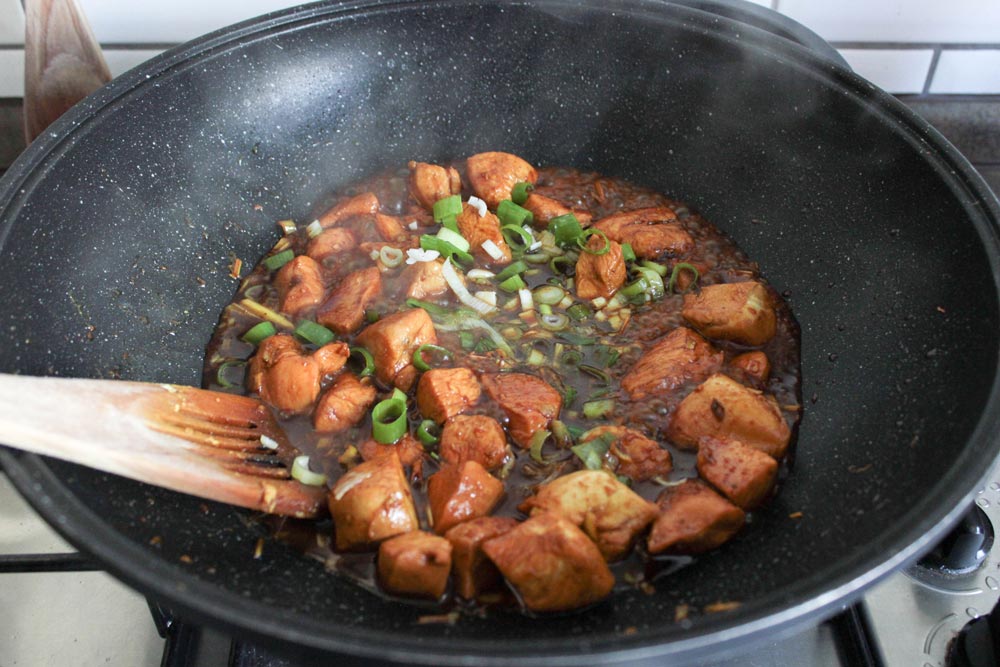 Instructions
Start with the rice. Place it into a pot with 1.5 cup of water. Bring to a boil, season with salt and cook over medium heat until the rice is cooked (app. 10 minutes). Remove from heat and add spring onion or parsley, stir and set aside.
Meanwhile the rice is cooking, prepare the meat. In a heavy saucepan or wok heat the sesame oil, add chili (if you don't have fresh chili, use dried one – chili is a must), then add garlic, ginger, lemon grass and chicken cubes. Roast it for a while and then sprinkle it with curry powder, mix well. Add the soy sauce according to your taste. If you like more salty meals, add more soy sauce.
Cook until the soy sauce start caramelize. Then add cream, coconut milk and bring to a boil over medium heat and cook it until the meat is cooked. Remove from heat and let it set aside for a while. You can add a part of the spring onion at the begining, but I recommend you to add it at the end while serving the meal. We love the fresh and crunchy onion in it.
Serve the meal as you like :). I like to "build a stage" out of the rice, then I place few pieces of meat on "the rice stage", slightly pour over the sauce, sprinkle it with spring onion, chili or dry-roasted sesame seeds. And that's it.
Bon appetite!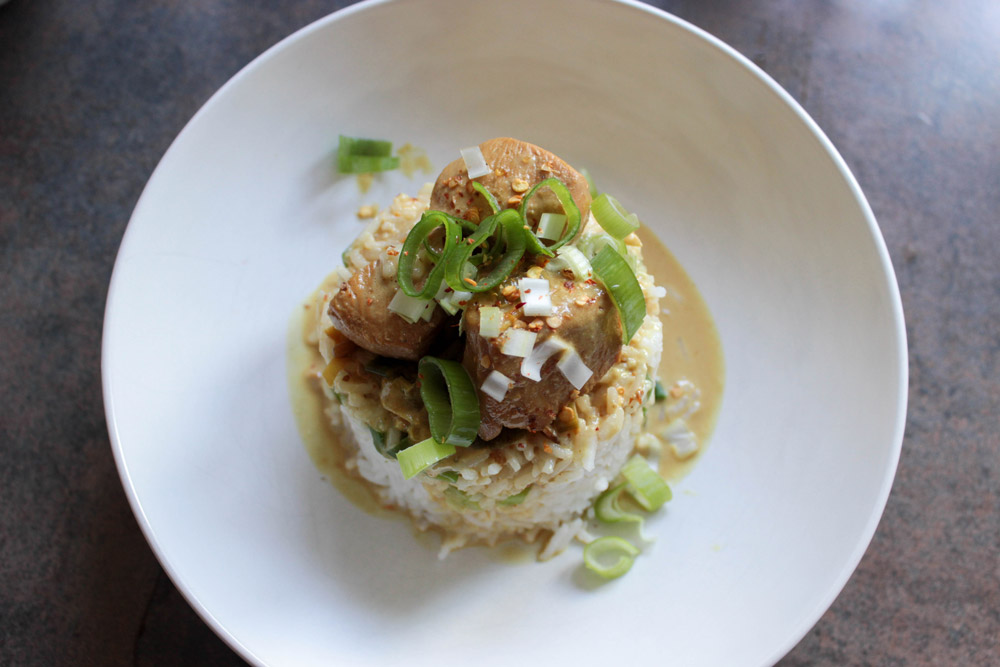 ---
---